This is a conversation that happens far too often in my house: My wife hears me openly laughing at something and walks in to see what I'm on about. Most of the time I am at my laptop, and she asks "What are you watching?". And, far too often, my answer is "Uh, wrestlers playing video games".
I don't watch nearly as much WWE product these days as it seems like I do, especially in regards to weekly programming. We don't have cable, so I virtually never catch Raw or Smackdown Live. And even though I have the WWE Network, I rarely ever watch NXT or 205 Live because I go to bed at 8:30 like a schmuck. I watch all the live specials and a fair amount of the original Network content, but that's really about it as far as my viewing goes. But what I do watch–what I try to catch as much of as possible–is the YouTube channel UpUpDownDown.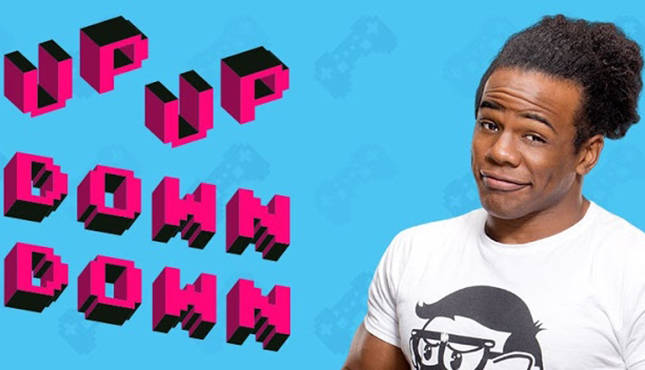 UpUpDownDown is a YouTube channel started (and mostly hosted) by WWE superstar Austin Creed–also known as member of The New Day, Xavier Woods–in 2015 to give himself and some of his backstage/traveling buddies an outlet to play video games and let fans in on the fun. In the last three years, it has grown substantially, and its video catalog is full of tournament play, challenges and bets, fun conversations, and general joyous behavior starring talent from across WWE's roster.
I'll be honest… I have never been the kind of guy who follows Let's Play videos or watches rando's on YouTube play games. I mean, I GET it–I'm not saying there isn't fun to be had watching those–but it takes a certain personality to make it work for me, otherwise it comes off as asinine and dry. A lot of people just don't have the wit and charisma to make watching their sitting and playing a game feel engaging. Creed (and I'm already noticing on my proofreading I am unconsciously alternating between calling him Woods and Creed, so bear with me, hopefully I get them all cleaned up) and his companions have that personality in spades, though! Whether it is Creed just talking life stories and old games with guest stars, or Cesaro playing a phone/tablet game called Clash Royale, or everyone getting together to crown an annual Madden champion, these folks know from their time in the wrestling business how to catch your attention, make what they are doing feel interactive, and reel you in.
One of the more repeated criticisms hurled at WWE in the modern era is that scripted promos and rigid character definition is stopping talent from getting over organically because superstars aren't allowed to let their natural charm shine through. I can't speak to how true or not that is, but I can attest to the fact that some men and women who maybe don't have as much flavor on WWE's weekly shows as you would like are absolutely glorious when they appear on UpUpDownDown. For example, poor Mike and Maria Kanellis don't get much TV time these days, but they got over with me based on their UUDD appearance. So you can bet that when I do get to see them in the ring, I'll cheer for them because I know how entertaining they can be. Whatever scripts the talent has to work with as part of their angles and characters on TV are what they are, but on the more relaxed and free nature of UUDD, you really feel like you get to know these folks, and that makes you want to root for them.
The channel is full of stuff like that. Creed and his buddies (most frequently the rest of The New Day, The Usos, and Tyler Breeze… but like I said, there's at least a little of almost everyone) play new games, they play old games, and they play games I have never heard of before but look like dynamite to play (and I need to work on getting time together with fellow Ghosts Chad, Andy, and Zack to try them out). Games like Nidhogg and Gang Battle Beasts spring to mind as titles I had never heard of, but now desperately want to play because these guys and gals seem to be having so much fun. Or maybe I just want to play them with Luke Harper so I can watch him scream and yell at everything that happens. He is every bit as intense as his crazy eyes and beard would have you believe, but at the same time, he hilariously keeps asking everyone to stop swearing because his kid watches the channel.
So yes, additional fun fact: I have learned I will watch absolutely any video game played by Austin Creed and Tyler Breeze (a.k.a., Prince Pretty). Those two have glorious chemistry. Lately, they have been alternating between a jailbreak game called A Way Out and an old WWE game, Raw vs Smackdown 2006. Both sets of videos have been a treat, and I hope that they keep finding time to record together now that they are on different brands and traveling to separate locations. Breeze is hilarious in these videos, and has made me a fan for life with them.
Honestly, it's not just UpUpDownDown that gives these peaks into the human beings that portray these superstars on our television screens. With the advent of the WWE Network and original programming like Countdown, Table For Three, and WWE 24, fans are treated to a lot of unscripted material that would never have been accessible twenty-plus years ago. It's a brave new world for wrestling fans where the curtain is pulled so far back. Countdown seems a weird choice to throw on there, as it was just a Top Ten list show that recounted moments in WWE history, but it featured today's talent commenting frankly on the moments on the list. It was that show that fully displayed the wit of Cesaro, a guy who's carried the knock that he isn't a great promo in the ring. Between his commentary on those lists and his solo UUDD show, Clash With Cesaro, I know what a brilliant guy he can be when he is just himself. And, as with Mike and Maria and Tyler Breeze noted above, that makes me a fan.
That's all I really want, I guess, is the opportunity to see these wonderful men and women lose the scripts and provide a sense of enjoyment aside from what they show us on WWE weekly programing. And that has been what Austin Creed and UpUpDownDown has given us for the last few years. In a world where I find Raw and Smackdown Live to be somewhat negligible, these videos of professional wrestlers playing video games are indispensable. So I'm going to continue to watch and laugh at them while my wife gives me weird looks.
Oh, and one last thing I have learned? I would watch AJ Styles and Rusev play Madden football all day forever.