Are We Excited For Wrestlemania 35?
The year 2029, the relatively near future.
After years of slowly marching across the duration of Sunday, Wrestlemania 45–now just called WM by WWE officially–is set to begin at 11:50pm EST Saturday night. It is expected to run until 1:00am EST Monday morning.
In his office in Stamford, Connecticut, powered by the cybernetic organs that keep his withered frame moving and his long-dead organs pumping, Vince McMahon cackles. His dream of Wrestlemania becoming a weekend-long affair draws ever near its completion…
If you haven't heard, Wrestlemania is set to be an incredibly long card.
With the pre-show–wherein several matches are scheduled–set to start at about 5:00pm EST and the show not expected to end until after midnight, there is over SEVEN HOURS of sports entertainment to be had! There are sixteen matches scheduled… SIXTEEN! And while there may be a quick squash here and there on the card–I'm looking at you, Finn Balor vs Bobby Lashley and The Revivals vs Hawkins & Ryder–there are also quite a few matches that can be counted on to be epic affairs.
The thing is, a lot of the anticipation you will find online for this iteration of 'Mania is tempered, at best. And that's weird to me for a show that seems, on its face, chock full of fantastic potential and memorable moments. Even in the face of the endurance test that will be Wrestlemania 35, there is a lot to look forward to.
So am I excited for Wrestlemania? Yep! Why? Well, I'll tell you…
It's Wrestlemania!
I tend to remain irrationally hopeful when it comes to WWE's biggest shows of the year. Sure, it's sometimes hard to get up for Battleground or Backlash or what-have-you, but the BIG shows? The Royal Rumbles and SummerSlams and even Moneys In The Bank? I have an eternal optimism for those shows because when they are good, they are GREAT. And do you know what's often the greatest when it's at its goodest? Wrestlemania. It has unfortunately been a few years since we have had a truly great 'Mania (the back-to-back bangers of 30 and 31 have not been followed up particularly well), but that just means there is great potential to break out of the funk! And honestly? I remember amazing Wrestlemanias for being legendary more than I remember the poor ones for being stinkers. So the upside far outweighs the down.
WWE Has Listened To The Fans!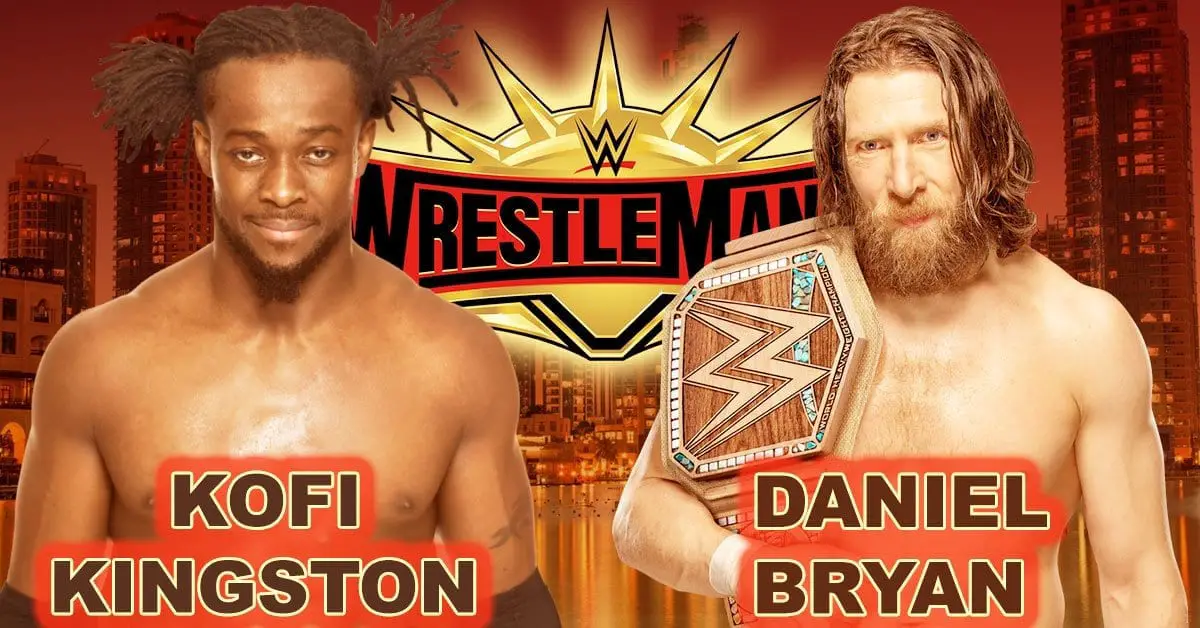 Kofi Kingston and Becky Lynch are in high-profile, main event matches at Wrestlemania, and you know–YOU KNOW–that neither of those were ever in WWE's grand design until the last few months. Blistering fan momentum has created both of these matches because Kofi and Becky have been two of the most beloved characters of the past several years (Kofi obviously experienced a recent renaissance this winter, but he's always been respected, lauded for his work in New Day, and thought of as a guy who deserved a main event run at some point). The WWE could easily have just followed through on their owns plans for these title matches, but they listened to what the fans wanted instead, which is quite a change from the last few years.
Speaking of which, Roman Reigns isn't in the main event, or even a top of the card match! You KNOW it had to be almost irresistibly tempting for WWE to throw him into the Seth Rollins vs Brock Lesnar Universal Title match or have him in some other high-profile feud, but they are, instead, taking it slow and allowing him to keep the positive momentum from the wonderful news of his leukemia remission. Let's face it… we're all going to go back to booing "Roman Reigns" the entertainment product soon enough, but WWE is wisely playing gently with him while we are all thrilled for the good health of Roman Reigns the human being.
We're Finally Getting a Demon Entrance at Wrestlemania!
Okay, this one would have been better served to have been an easily-predictable surprise rather than for WWE to have announced it ahead of time as they did, but whatever… Finn Balor is reporting for duty as The Demon! That's going to be an absolute spectacle of a ring entrance, and hopefully it leads to Balor effortlessly obliterating Bobby Lashley for the Intercontinental Title. On a card this stuffed, we need some quick-hitters, and Lashley isn't the type of guy who really needs the momentum of looking good against The Demon. Let Finn come out, pop the crowd with an extravagant appearance, get the belt quickly and end this feud.
There's Really Only One Match That Looks Out-And-Out "Bad", And It Might Not Even Happen!
Even the underwhelming matches have promise. The Smackdown tag title match has talent for days involved with The Bar, The Usos, Aleister Black & Ricochet, and Rusev & Nakamura. The Women's tag title match has some great characters with the IIconics, Sasha Banks, and Bayley. Samoa Joe vs Rey Mysterio could either be a great extended match or a powerful squash to put Joe over strong. The point is, there are quite a few potential diamonds in the rough on this show.
The reaction to Baron Corbin being announced as Kurt Angle's retirement foe was swift and brutally negative. Corbin is obnoxious and an effective heel, but he's eminently disliked and not worth much in the ring. With Angle being well past his days where he could carry lesser talents, this bout has disaster written all over it. That said, in the vein of WWE listening to the fans, it's been rumored that Corbin may not be the real Final Boss of Angle's career. Could we see John Cena take this spot? Maybe the Undertaker? The former is certainly more promising than the latter, but Angle/Undertaker at Wrestlemania at least has the ring of being a spectacle. Both would be upgrades to Corbin.
NXT Takeover New York Was Great!
Okay, this one doesn't really impact 'Mania itself, but the lead-up NXT Takeover show was of typical Takeover quality. War Raiders vs Black & Ricochet, Velveteen Dream vs Matt Riddle, and Johnny Gargano vs Adam Cole were all brilliant, four-star-plus affairs. And don't you think the main roster will want to make sure they aren't eclipsed by the developmental league during WRESTLEMANIA weekend? Some fires have to be lit under the WWE roster superstars to match the NXT effort. And maybe we will get some surprise NXT call-ups for the battle royals…
So yes, overall… I am undeterred by the negativity. It's Wrestlemania Weekend! Bring on the WWE show of the year. I think it's going to be a great one.