One can argue that there is nothing more life altering than becoming a parent. Particularly for a woman who is blessed to carry a child in her womb, the changes are all encompassing–physical, emotional, spiritual. Priorities change–nearly every ounce of energy is used towards the care or benefit of that new human being. How each individual mom or dad processes these seismic shifts is completely different and honestly, each person needs to find their own way through the chaos. No amount of parenting books, blogs or podcasts, no amount of advice (solicited or otherwise) can possibly prepare you for what becoming a parent is like nor give you precise instructions on how to make it all work.
Our beloved comic book heroes and heroines are often times all consumed with their heroism. They battle the mischievous, the tyrannical and the unabashedly evil monsters that are constantly threatening the city/world/universe. Our superheroes are so preoccupied with this ever-lasting battle that "normal life" is cast aside, sometimes purposefully, other times not.  So what happens when one of our heroes decides to try "normal life"on for size and start a family?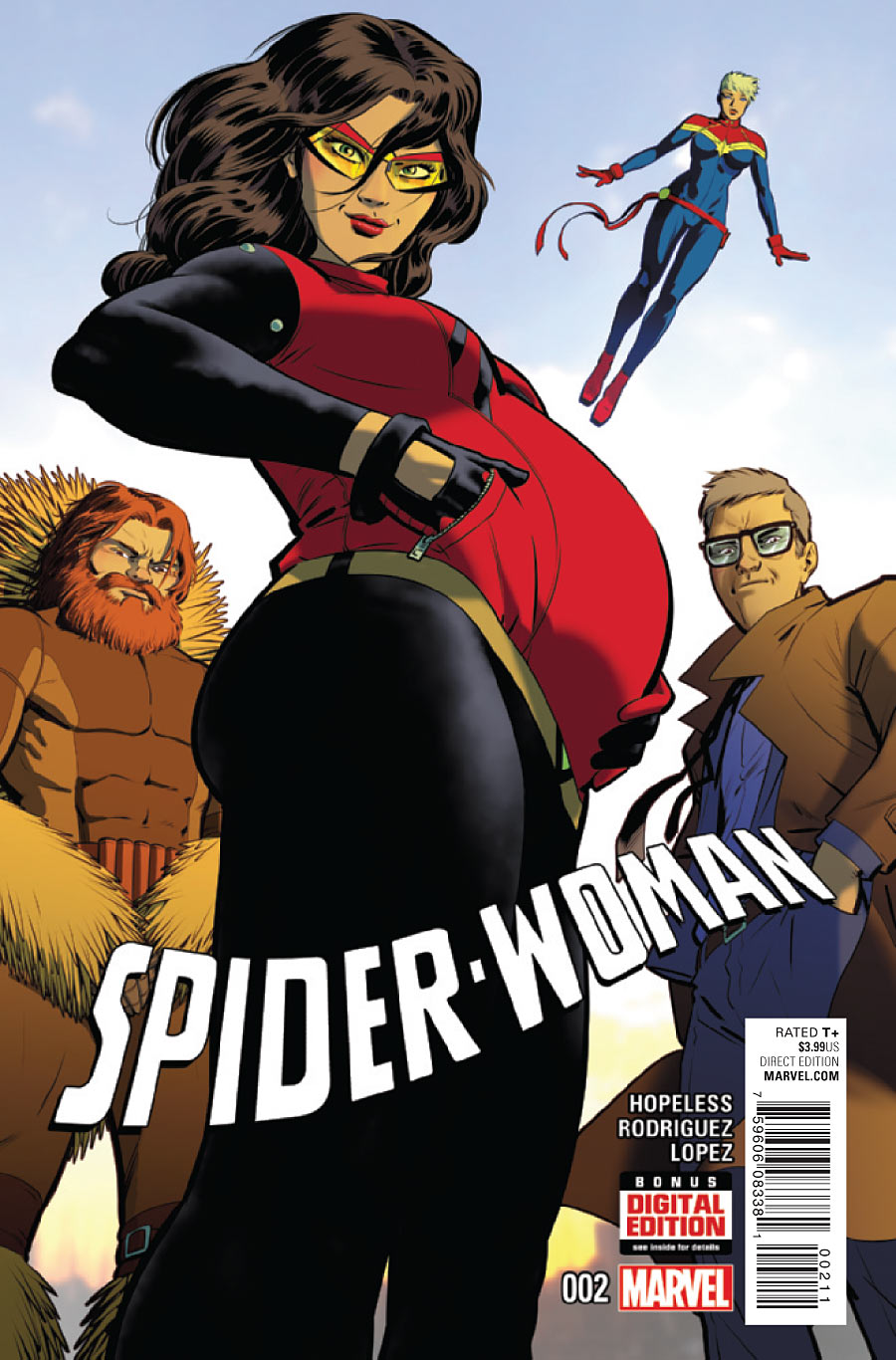 Spider-Woman: Baby Talk  (2016) by Dennis Hopeless and Javier Rodriguez (YES! You read that correctly, this is a book about a pregnant super hero written by dudes! More on that later.) tells the story of Jessica Drew, former spy turned super hero who, as we later find out, DECIDED to start a family of her own. She never expected to have a baby, in fact she was completely taken aback when she found herself disappointed rather than relieved when she took a pregnancy test after a late period. We join her at the end of her pregnancy, at which point her closest friends (Carol Danvers, Ben Urich and thief turned good guy Roger aka Porcupine ) have finally gotten her to step aside and let them pull all the punches.
She starts her maternity leave by going to the highly acclaimed maternity ward on an Intergalactic hospital at the recommendation of Carol. Seems she can't shake being a hero when Skrull rebels lock-down the place in search of the 14 year old Skrull Prince Dirk, currently a cancer patient at the hospital, whom they want to use as a pawn. Jessica's heartstrings pull her back into action to help the young prince, who turns out to have a few tricks up his sleeve as well. In the midst of the siege her water breaks and she undergoes an emergency C-section and then demands the surgeon close her up quickly so she can return to battle the bad guys. Needless to say, she kicks some ass and is able to finally enjoy her new little baby boy.
But then the real struggle begins as Jessica struggles with the constant demands of a newborn. She's exhausted and terrified of making a mistake–but finds she doesn't mind. "Nothing has felt more important that keeping this little person safe. And I love doing it because it feels right and good and normal. " We follow her through her first night out, terrified that babysitter Roger will literally go down in an inferno and then to her back-to-work struggles.
Of course, those of us who battled this decision probably weren't concerned with having constant near death experiences–"How do I do that now? How do I go back out there…without worrying about orphaning my kid?"
But she finds herself incomplete without being Spider-woman too and the series ends with her returning to work importantly citing that other's showed her how to be a hero and now it's her turn to show her son the same.
---
In light of everything I read receiving an A (because if I don't like it, I pretty much don't read it), I am abandoning my grading system and copying the Ghost with the Most by doing a like/don't like list.
Things I liked:
The focus was in the right place. Having a baby tears you apart, sometimes literally. But honestly, I think the authors were spot on focusing on the identity crisis of who you are as a new mom, or dad for that matter. Can you be dedicated to your child but still be true to yourself?                                                                                                        Working mom or not, I whole-heartedly agree that only by staying true to who you are will you a) be able to genuinely share your life with those around you– including your child– and b) set an example for your child about how to be true to him/herself. For some this means continuing to be a professional, for others this means dedicating all the hours of your day to the care of your child (God Bless ya! toughest job around).
I enjoyed reading the editor's notes on this series. Turns out both the "dudes" who created this book were new dads at the time.  A quote by Dennis put it perfectly:  " [Becoming a parent]cracked me into pieces and put me back together completely changed."
A small nuance but I thought was super cute. Jess' baby kicks always acted up when she was internally debating about taking action or not. As if the baby was saying, "go ahead mom, you can handle it"

Finally, THE TRIBE. Jess is surrounded by such a supportive clan. Captain Marvel, Ben, Roger, Cliff Barton–all lend a hand or an ear and show this new mama some love! The old adage is totally true–it takes a village and I was glad to see the creative team surround Jess with positive and empathetic people. Especially in this age of mommy-shaming and Pintrest perfection it's so important to focus on the positive people in ones life.
---
Things I wasn't as much of a fan of:
Dude, first of all the need for an emergency C-section literally minutes after your water breaking is pretty unlikely but I'll give them a pass for dramatic effect. However, this scene of her kicking butt supposedly with a fresh C-section wound and looking this good doing it? Come on now.  I get that she's a super hero and all and maybe she heals quickly or something but let's take a page from Duchess Catherine and remember that those baby belly's don't disappear instantly. And by the way she could at least look like it's a little bit of a struggle seeing as she just got cut open.
I also wasn't a huge fan of how she kept the origin of her pregnancy a secret until she reveals it to Carol after the baby is born. On the one hand you have privacy issues and the idea of whose business is it anyways but then again I felt like she was ashamed of her actions. Why not scream it from the hilltops that she wanted to be a mom and found a way to make it happen.
---
Overall Thoughts:
This was a solid story that deals with a non-traditional super hero topic in a well thought out way. Kudos to the creators who gave a preggo super heroine some depth and flushed out the true-to-life thoughts and emotions of soon-to-be and new mommas.
And to all the real life mom's out there–you are the true super heroes and don't let your kids forget it! 
---