So, 'ya know, sometimes I read things but don't have time to write a whole blog about them. So, I won't. But I will give a little peek into what made its way on to my bookshelf this month. (Or more accurately–what I borrowed from the library's bookshelf. Have I ever mentioned how much I love the library?)
---
One of the cool things about my job is connecting with patients, putting them at ease and treating them like a person, not just another patient. I feel like nothing helps me connect better than talking about books. It's an instant ice-breaker when you can walk in to see a patient for the first time, introduce yourself and then kindly inquire about the book they have on their lap. Over the years I have essentially started mini-book clubs with some patients, where a visit is not complete until book recommendations have been exchanged. I have to give props to my girl, K.H. for this one.
I feel like I'm a little late to this party but whatever. This witty comedy-tragedy was published in 2012 and later adapted into a movie (The Fundamentals of Caring) starring Chad's perpetual man-crush, The Paul Rudd.  It follows the story of a pathetic 30 something who is going through a seriously messy divorce, albeit mostly on his account. He is barely functioning but has to make some sort of ends meet so he signs up for a certification class to become a caregiver. He ends up being hired to care for  a teenage boy with muscular dystrophy who obviously has his own struggles with his disease but also with a strained relationship with his father.  A road trip forces both of them to deal with their demons but also to find hope in the world they live in–despite thinking there was none.
Ok, that description is probably not doing this book justice and makes it sound a little cliche. But I promise, this is a great read that touches all the sweet spots. It is funny and absolutely tragic, heartfelt and hopefully all rolled into one.
---
I guess I'm turning into a little bit of a Neil Gaiman fan girl! Well, at least of his YA books. Again, I'm a bit behind the times as this 2002 book came out as a movie a decade ago, but I haven't seen the movie nor had I read the book. Still enamored by Fortunately, The Milk I thought I would give this slightly creepy appearing book a chance.
It is indeed creepy, following dear Coraline, a bored little girl who loves exploring, through a magical door in her flat leading to a duplicate world complete with "the other mother" and "the other father". While at first they seem more interested and fun than her actual parents, it soon becomes clear that "other mother" is hell bent on keeping Coraline for herself and not letting her return to her real parents. Coraline must find courage and out-smart other mother to make her way home.
In contrast to Fortunately, this book was less whimsical and definitely darker. But what I love about both of them is that the heart of the story is simple yet enhanced so beautifully by the details. I can see this book being perfect for the young adult crowd looking for a little psychological suspense but who still cling for the spunky "child" character who shows the adults up. For some reason this book reminded me of Dahl's Matilda, I suppose because the girls are similar in spirit.
---
Now I'm feeling so guilty about being behind in life. Honest truth–I've never read the diary of Anne Frank. I am remiss at how I have neglected such a monumental book relating to our recent human history. This month our local library had a book discussion about this 2018 graphic novel adaptation and while I couldn't attend I was super curious about this book.
Well. This. Is. Something. This adaptation was solicited and authorized by the Anne Frank Foundation in Basel and takes portions of her diary, combines the words she left us with brilliant artistic visuals that bring her world in The Annex to life and enhance our understanding of this young girl's personality and inner workings–her wit, sarcasm, love, disdain and most poignantly her inner peace despite the horrific world around her.  She is a spit-fire without excuses, forcing the world to accept her as she is.
Haven't not read her diary previously I really didn't know what to expect. I was surprised to find that (at least in this adaption) most of her musings were about the mundainities of her existence during her period of hiding from 1942-1944. She nit picks on her house mates, including her own family having a particular dislike of her mother. She talks about studying all day in complete silence and about the once a week baths. Food plays an intricate role in the household as you would expect, with meals remaining the center of family life, no matter how little there was.  She finds love, but is super mature for some one of her age about it, worried that she was coddling the boy too much and he was getting soft, lacking courage and a backbone.
But most inspiring was her hope. How she could find peace from a little window that let her see the sky.
This morning when I was sitting in front of the window and taking a long, deep look outside at God and nature, I was happy, just plain happy… as long as people feel that kind of happiness within themselves, the joy of nature, health and much more besides, they'll always be able to recapture that happiness. 
---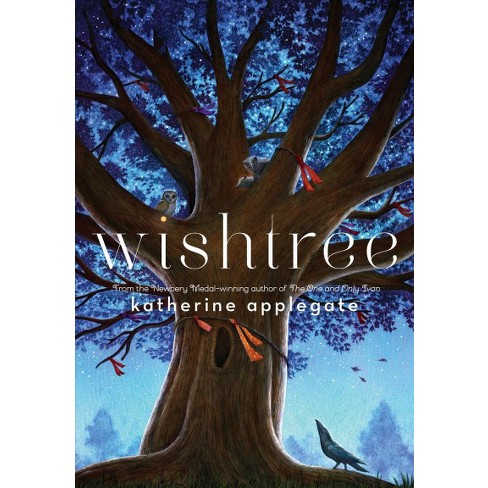 I was really on a YA kick this month, having also picked up this book that the library featured a few months back. A 216 year old Red, an oak tree, is our narrator, providing a unique vantage point for this story about community and the value of our personal histories. Red is the community Wishtree, where every May the town flocks to hang their wishes on his branches. But this year, the neighborhood has changed around Red and not everyone is keen on some of their new neighbors. Red is scarred by the hateful, simple word LEAVE carved into his bark and sets out on a mission to bring new friends together rather than let hate divide them. Through perseverance and teamwork he brings not just two people together but the whole community. LEAVE –> STAY.
This was a simple tale, reminiscent of a grandmother figure passing down a story through the generations. And maybe that's part of the point. When we recognize our own history and remember what came before, we can see the future a little more clearly.
---
Goodness, we were getting a little touchy-feely there for a second weren't we. In a drop back to reality I've also included in this list the only TV show I've really watched this month other that the last episodes of Game of Thrones (we aren't going there folks!). This Canadian sitcom is a few years running north of the border but the first season recently hit Netflix here in the States. We follow a set of moms just coming off their 9 months (YES! 9 months! makes our measly 12 weeks look like a joke don't you think?) maternity leave and all sorts of shenanigans ensue. While I've seen criticism that this show isn't representative of a large portion of working moms (they do all seem fairly affluent…and pretty white as well), I liked how the show took on some pretty serious mommy topics but with sarcasm and laughs.
We have a mom battling it out to resume her successful career yet maintain control of her her baby's day-to-day,  and then the new mom who turns out isn't really all that into being a mom and is yearning for her golden days of youth. There is a same-sex couple dealing with the birth mom's postpartum depression and the psychiatrist mom of 2 who finds herself pregnant again but doesn't know if she wants it.
I'd say those are pretty legit topics and to discuss them while still having completely awkward funny moments with leaky boobs and diaper blowouts is a win in my book. I'm excited to see that season 3 was released in Canada earlier this year so hopefully one day more episodes make their way stateside.
---
Happy reading everyone.