It's now time for the long awaited Part 3 of the history of the production company behind the Ghosts of the Stratosphere podcast, Black Angus Productions. It's our intention with these posts to provide our fans with some of that much needed backstory as to other creative endeavors that we have had over the years aside from our current podcast.
When we last left off, things were looking rough for our fledgling little mountain town production company. Andy Larson, co creator of Black Angus, had hit a rough spot after the successful PIT franchise of web movies had come to an abrupt end due to his main collaborator/executive producer, Gus, and his decision to join the priesthood. This coupled with Andy's marriage and subsequent relocation to Chicago for work, meant that core group of creative minds that made Black Angus great for many years had become scattered.
As a result, many of the creative opportunities to continue the "good work" were not taken advantage of. Instead, Andy busied himself with trying to trying to relaunch the previous PIT movies for a wider audience on YouTube, only to see his efforts derailed by those former Black Angus Production members that owned creative rights to the properties, and exercised their prerogative to stop them from being distributed publicly.
As an aside, although many of our current fans have asked for those movies to be posted her at Gotstratosphere.com, this is the main reason we can not comply. Black Angus may retain co ownership of the PIT movies, but we unfortunately don't retain the complete rights, so at this time, we will not be posting them here.
It wasn't until  Andy Larson moved back to the Pittsburgh area several years later that he ended up reconnecting with a group of creative talents that he got excited about doing collaborative projects with again. This was mainly his old crew of college buddies from IUP and their extended network of friends. For many of our loyal fans, this is actually the part of the story in which the familiar faces of Chad Smith and Rob Stewart start making their mark on the Black Angus story, a mark that continues today as co-hosts of the Ghosts of the Stratosphere podcast.
However, although they had the creative talents, they still needed a worthy project to sink their teeth into. That project came in the form of a nationwide contest called "The 48 Hour Film Project". For those of you that don't understand the contest, basically they give you a randomly assigned genre of movie, a character's name to use, a prop you have to include, and line of dialogue. Then you have to make an 8 minute short film from start to finish in 48 hours which are first shown and judged in the individual cities before making their way to nationals.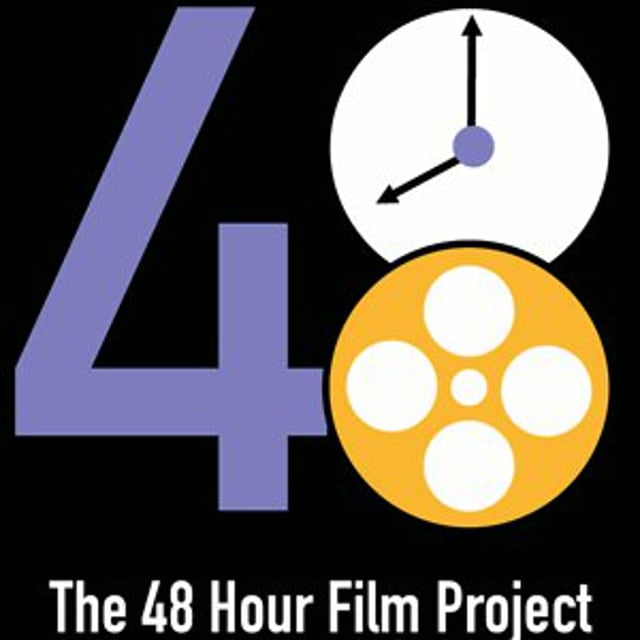 Black Angus Productions participated in two of these contests in the years leading up to the formation of Ghosts of the Stratosphere. The first was in 2010 with "Questing for Glory" and the second in 2013 with "The Mancation". As a treat for our fans, below are not only recaps of those contests but for the first time on gotstratosphere.com you can watch the actual films!
Questing for Glory (2010)
For our first 48 Hour Film Project, Black Angus Productions pulled "Fantasy Movie" as our genre, with the prop being "a pillow", the character being "Retired Military Officer, Gil Walters" and the line of dialogue "Take your Time. I got all day.".
The end result of these concepts being thrown together in our creative blender was a film called "Questing for Glory": the story of 2 aspiring albeit inept warriors who are trying to kill their first Ogre in an attempt to make a name for themselves.
It stars Chad Smith as Shieldar, Jason Griffith as Boogar, Jeremy Frye as The Ogre, Zak Shuster as Admiral Gil Walters, and Andy Larson as Fumblebuck the wizard.
It was directed by Andy Larson & Jeremy Frye with Chad Smith & Jason Griffith doing most of the heavy lifting with the script.
However, like all Black Angus Productions, everyone was pitching in wherever they could to make things work, and we can't overlook the contributions of people like Zak Shuster, Lindsay Fahey, Nicole Larson and John Gratto in making the film a success.
Given this was our first attempt at making a film in 48 hours, there was a lot of anxiety and creative tensions ran high. There were too many writers throwing out ideas at first, conflicts in the direction arose from having to create a fantasy type story without having time to create visual effects ,and when we did need visual effects, our green screen technology didn't work. In particular, Chad and Andy nearly came to blows at points during the production over the script, and it nearly derailed the entire project.
In the end though, out of conflict and strife comes real compromise and ultimately more complete film making, and in the end, "Questing for Glory" was selected as one of the top 10 films to come out of the Pittsburgh area field, winning an award for "Best Use of Prop" with our decision to make the pillow an actual character in the cursed former warrior, Jimmy.
The Mancation (2013)
Black Angus returned to the "48 Hour Film Project" three years later, and pulled "Vacation/Holiday film" as our genre for our second film. This was coupled with the prop being "a picture of someone's Mom/Dad", the character being "Trey Campbell, Spokesman" and the line of dialogue "How did you figure it out?".
With these particular ingredients, we ended up with a film called "The Mancation": the story of 4 buddies who go on a really cheap, pointless vacation filled with misadventures.
It primarily stars Andy Larson as Andy, Rob Stewart as Stew, Zak Shuster as Trey Campbell, and Ben Bowser as Alibaster "Cyrax" Mucshenic. Chad Smith makes reoccurring cameos throughout the movie as a character we credited as "Wee Man" mainly because the first time you see him on screen, he yells "WEEEE!" at the camera.
Andy Larson is once again the main director, with Amanda Stewart serving as second director. Chad Smith also served as our head writer again, but it was much more of a collaborative process with Rob Stewart, Andy Larson, Ben Bowser, and Zak Shuster all having major input on the script.
Given the success of "Questing for Glory", many of the Black Angus folks from the previous film had high aspirations for the 2013 entry, given that many of us felt that if we could win all those awards in 2010 when we really didn't know what the hell to expect, now that we were seasoned professionals at this, the second film should be even better.
Unfortunately, we really only had 3 members of the production staff from the 2010 film actual returning to make the second film, and some assumptions were made in that it wasn't as much the team but the actual understanding of the process that would make for a smoother production.
In some ways, this was true given that we were able to complete the entire movie in actually 47 hours turning it in with a full hour to spare unlike in 2010, when we barely got it in under the wire. This was mainly because we were able to stick to a better schedule, with truly the script being written completely on Friday, all the filming done on Saturday, and Sunday for post production.
This really caused a lot less stress for everyone and as a result, we had a lot more fun. Whether it was the group dynamic, or the laid back atmosphere, or the lack of Chad and Andy coming to blows like they did in 2010, there was a lot less drama and much more camaraderie in our second outing. It also didn't hurt that Andy Larson viewed The Mancation in some ways as a return to the PIT series that he had made years either with many of the same concepts/gimmicks he created there returning only with new actors in some of the major parts.
However, there was a much bigger problem that arose out of that somewhat carefree production of the  "The Mancation".  It turned out that  in order to fit in all the story we wrote and filmed, the total run time of the film was 12 and a half minutes. When the maximum can only be 8 minutes under contest rules, that means nearly quarter of the film ended up on the cutting room floor for the version we had to submit. This caused important portions of the film having to be shortened and as a result characterization, pacing, and overall feel of the film suffered.
Thus, "The Mancation" did not repeat the "success" that its predecessor had. It ultimately won no awards or special accolades unlike "Questing for Glory".
Just as we mentioned before that conflict often causes compromise that can lead to a better end product, some say that when everyone just goes with the flow and doesn't make waves, that bad ideas aren't ultimately shot down. Sort of like the difference between the original Star Wars movies and the Prequel trilogy.
Was that the downfall of "The Mancation" in terms of the actual contest? Maybe. But many involved with that film will attest that there were a lot of bad ideas shot down over the course of the 3 days albeit in a much more respectful non combative way, so the argument that it was the lack of conflict falls flat with some here.
In the end though, it's a mute point. Black Angus Productions ultimately released the 12 and a half minute version to our fans shortly after the contest was over, and the truncated 8 minute pale ghost we had to submit has been forgotten to history.
With that said, here it is for all of you Ghosts of the Stratosphere fans! I think even more than "Questing For Glory" above, most of you followers of our podcast ever week will love seeing more of Andy, Stew, and Chad's hijinxs as the movie unfolds!